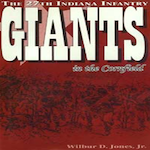 Giants in the Cornfield is an extensive social and human interest study of the young men who comprised the Civil War's tallest regiment. The wide-ranging, fast-moving, and thoroughly researched work divulges the personal life and cultur
e of the Union Army common soldier.
Giants focuses on the interactions of a single, homogeneous unit of Hoosiers: neighbors and chums from the same county, village, and family, many from areas sympathetic to the Confederacy, who endured three years of hardship to preserve the Union. Giants captures the mental, emotional, and social environment within which these 1,181 men served, fought, and died. Utilizing thousands of unpublished letters, official and family records, diaries, and memoirs, Jones weaves a special regimental personality, character, profile, and history.
The 27th Indiana gave and received ghastly casualties in Antietam's Cornfield in America's bloodiest day. That battle was joined because members found General Robert E. Lee's "Lost Order," the war's intelligence coup.
Note: Also available for purchase are the highly detailed regimental roster containing genealogical information; regimental Itinerary of events, and regimental table of organization – items of great interest to Civil War buffs.
Others say:
"The book truly is a sociological study….Drawn mostly from primary research sources, the narrative reads well….Several chapters are particularly outstanding….the maladies of the 27th is outstanding….The author's approach…centering on the social and human interest rather than battles, is new and refreshing."
The Civil War News
"This history of a distinguished Federal Regiment…should command a large audience. Well researched and well written, it tells us a lot about Civil War soldiering."
Alan T. Nolan, author of
The Iron Brigade, and Lee Considered
Chairman of the Board, Indiana Historical Society
"The Hoosiers of the 27th Indiana come to life in Wilbur Jones' enthralling account, as he brings to these pages their boredom, their terror, their playfulness, and, at places like Antietam and Gettysburg, their heroism."
James H. Madison
Chairman, Department of History, Indiana University