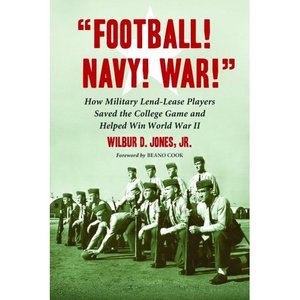 Not coincidentally, football employs military terms associated with war, such as "aerial attack," "blitz," "field general," and "trench warfare." Beyond providing essential jargon, by necessity and choice the military linked with colleges during World War II to preserve the game and keep schools from closing, and utilized football's rugged physical, mental, and competitive conditioning to prepare men for combat, boost morale, and help win the war.
The impact of this overlooked story is told in Wilbur D. Jones, Jr.'s book Football! Navy! War!: How Military '"Lend- Lease" Players Saved the College Game and Helped Win World War II.
Veteran ESPN college football historian and commentator Beano Cook writes about the book's "forgotten yet fascinating era…expertly exhumed and chronicled. Simultaneously educational and entertaining, this book is as solid a play book as I've read. Jones'…meticulous research and storytelling style combine to form a potent pairing that rivals that of wartime football's most famous duo, Army's Doc Blanchard and Glenn Davis."
"Exciting military games were a diversion from war's horrors and sacrifices, and they helped boost bond sales and home front morale for civilians and the military," Jones writes. His book, slated for a July release, covers such games as Great Lakes Navy's final-minute 19-14 upset over perennial power Notre Dame in 1943 (though the Irish won the national championship anyway). The volume joins a series of sports history books issued by McFarland, one of the country's leading publishers of scholarly and nonfiction books.
Through vision and leadership, the Department of the Navy sent colleges thousands of "Lend-Lease" and pre-flight officer candidates, including football All-Americas and professionals, for preliminary education. Many played on varsities. Legendary base teams sprouted overnight. The army fielded powerful air force teams, but did not allow candidates to play varsity football.
Cook recalls "perhaps the most important—if not interesting—era the game of football will ever see….Consider [the book] your ticket to the story of great games, greater names."
Featured in previously unpublished detail is the sport's wartime star, teenaged halfback Charlie "Choo Choo" Justice, a kid among the All-Americas and NFL players at Bainbridge Navy and a postwar superstar at North Carolina.
Reviews to date:
"I've been waiting for somebody to do this book and preserve these treasured college football memories, and now Wilbur Jones has done it – and done splendidly."
– Dan Jenkins, Sports Illustrated; author of 20 books including Semi-Tough
"Books about WWII and the athletes who served in it are too few. Too many never lived to write of it. For three years I served in the Navy Air Corps and it ruffled my conscience when I read of friends who lost their lives in battle while I sat unharmed. Wilbur Jones' book should give you a well-scripted view of what it was like, and of the guys who left the athletic field and pitched in for all of us. Just pause for a moment and try to imagine: Tiger Woods being called up and sent into the trenches. That's the way it was."
– Furman Bisher, The Atlanta Journal-Constitution sports writer and editor since 1950; National Sportscasters and Sportswriters Hall of Fame
"Football! Navy! War! Is an untold story about the relationship of America's great game with the armed forces – especially the United States Navy – during this struggle against the Axis powers. As one who fought alongside many of the outstanding athletes that Wilbur Jones portrayed, I can testify how the smash-mouth tactics of the gridiron were applied in the waters and archipelagoes of the Western Pacific. The book is a must-have for any patriot and fan of the sport."
– Admiral James L. Holloway III, USN (Ret.), 20th Chief of Naval Operations; Chairman Emeritus, Naval Historical Foundation
"Jones rounds out his chronicle with dozens and dozens of illustrations – players, games, and long-lost advertisements and programs – as well as meticulously compiled statistics. In lively and readable prose, he sheds light on a unique, fun, and exciting era of the college game."
– America in WWII Magazine
"Any average fan, or any average reader, will find much here to entertain and surprise. Especially remarkable is this book's profuse illustrations or period photographs and vintage sports cartoons, a lost art."
– Ben Steelman, Wilmington (N.C.) Star-News
"Fills an important niche in the sports and military history of World War II…shows how the military both preserved the wartime college game and then contributed to the growth of its phenomenal postwar popularity."
– Jack A. Green, Naval History & Heritage Center