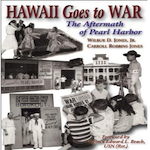 Wilbur D. Jones, Jr.,
and Carroll Robbins Jones
Foreword by Captain Edward L. Beach, USN (Ret.)World War II submarine officer and author of Run Silent, Run Deep; and Scapegoats: A Defense of Kimmel and Short at Pearl Harbor
"Carroll Robbins Jones was seven years old when the Japanese attacked Pearl Harbor. She watched the attack from Waikiki with her mother, a professional photographer, and younger brother. Her father was executive officer of the USS Shaw that blew up. While her father returned to sea, the family spent the next nine months on Oahu.
"Into a historical synopsis of the Pacific War's first six months, the Joneses skillfully weave his wife Carroll's vivid remembrances of wartime Oahu and a family separated by war headed by an ambitious, dedicated, and high-strung mother and her incredible photographs taken for the army and navy and Associated Press. Most of the photos shown are her mothers and most are previously unpublished.
"Examined are fleet operations through the decisive Battle of Midway, ship salvage operations, civilian defense, rumors, isolation, martial law, restrictions and shortages, impact on schools and social and business life, treatment of Hawaiian Japanese, and doing without. Meanwhile the Islands were flooded with military personnel training or passing through. Hawaii Goes to War adds an exceptional personal touch to the history of Pearl Harbor in the year of its 60th Anniversary. Life in the Islands was never the same again.
"Hawaii Goes to War also features some 125 photographs and other illustrations of the aftermath. Some of her mother's photographs are familiar army and navy official credits of images taken of Pearl Harbor, Hickam Field, and elsewhere on Oahu, particularly regarding damage and salvage. Some images have been published as "Associated Press" or with official army or navy credits. Each of her mother's images depicts how the impending Japanese threat interrupted and changed normal life in Hawaii.
"What Carroll recalls of the day of 7 December and for the entire war later in Los Angeles are an exceptional addition to one of the war's principal events. We believe the remembrances and photographs add a special new dimension to the study of Pearl Harbor and World War II history."
Others say:
"Carroll and Wilbur Jones have provided an evocative and lively personal account of those desperate days when Hawaii lay dangerously exposed to a second, deadlier Japanese strike. A fresh and fascinating memoir!"
Colonel Joseph H. Alexander, USMC (Ret.)
Author of A Fellowship of Valor: The Battle History of the U.S. Marines
"Riveting insights on conditions in Hawaii during and after the December 1941 attack….Vivid remembrances and photographs by a navy wife and her children living [there]."
– Dean C. Allard, Former Director of Naval History
"Hawaii Goes to War poignantly tells a remarkable story through the innocent childhood memories of a naval officer's daughter and the professional photographs of hr mother….Charts and figures make this an ideal reference book for personal libraries. With the forthcoming 60th Anniversary, this book is a most timely contribution."
David F. Winkler, Ph.D.; Commander, USNR
Naval Historical Foundation, and author of
Cold War at Sea: High Seas Confrontation between the United States and the Soviet Union
"Every American should read this book….It tells of the navy's heroic comeback…[and] two wonderful kids, who despite the deprivations of war and widespread fears of a Japanese invasion, remained courageous and upbeat."
Captain Charles R. Calhoun, USN (Ret.)
World War II destroyer commander, and author of
Typhoon: The Other Enemy, and Tin Can Sailor: Life Aboard the USS Sterrett 1939-1945
"This work is impressive for a number of reasons. It provides the reader with a detailed description of the Japanese attack…and the navy?s monumental salvage operation….Their description of life on Oahu before, during, and after the attack and how American residents…rallied to the flag in a time of real crisis. The work, well illustrated with original photographs, presents a new, positive account of one of the most dramatic events in American history."
Edward Marolda, Ph.D., Author and Senior Historian, Naval Historical Center