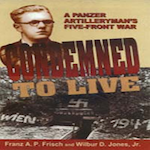 Franz A. P. Frisch
and Wilbur D. Jones, Jr.
Condemned to Live is an exceptionally explicit contribution to understanding the German common soldier of World War II, the private soldat. This gripping memoir of Franz A. P. Frisch, written with Wilbur D. Jones, Jr., portrays the nine-year life, culture and travails of a Panzer artilleryman who fought on five European fronts, and remained a private in rank.
The book features 140 unpublished remarkably candid photographs taken by Frisch with a Kodak box camera on campaign as a motorized soldier with the advancing Panzer columns. The photographs display the war's devastation and death, but most striking are the images of people: camp life, friends, enemies, and refugees. Frisch, a retired Ph.D. with the U.S. Department of Defense fought in the invasions of Poland, France, and the Soviet Union, and the defense of Sicily and Italy. In Match 1945 he became an American POW for two years.
The narrative eschews Hitler's grand strategies, field marshals, and Panzer tactics, all beyond his control, but instead includes extensive remembrances of a soldier's small and volatile world, conforming to his level of authority and competence, viewpoint, and informality. His U.S. counterpart was immortalized as "G.I. Joe."
Others say:
"[Frisch] provides incredible insight of the life and culture of the German common soldier …. He bares his soul when he describes the conditions, miseries, personal interactions, gears and desires he experienced… [those of] the Russian front in the winter of 1941 are unparalleled and unforgettable."
Edward Hirsch
Brigadier General, U.S. Army (Ret.),
Former Provost, Defense Systems Management College
"His motley experiences in and out of combat often reflect a philosophy of survival whose determinant ingredients are common sense, irony, keeping a cool head, humor, and a good deal of trust in a soldier's good luck."
Hermann 0. Pfrengle
Hitler Youth, and retired defense official of the Federal Republic of Germany
"The text is very well documented in prose with historically significant photographs …. An interestingly written, intimate glimpse into the "trenches" of the other "side"….a long journey through the night… with closeness to all humanity."
H. Gerhard Diehn
German common soldier, Center District, 9th Army, Russian Front, 1944-45
"… Valuable historical perspectives of a "simple common soldier" … [and] for the very first time the importance of many major battles – as experienced… (from] an artillery forward observer vantage point."
Terry J. R. Kolp, Esq., J.D., CPCM
Colonel, USAFR, National Security Analyst and White House Military Advisor