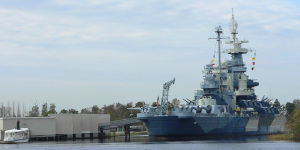 In 2014, Governor Pat McCrory appointed Wilbur D. Jones, Jr. as chairman of the USS North Carolina Battleship Commission. Jones, a Wilmington native, is the first Wilmingtonian to be named commission chairman since founder Hugh Morton served in 1962.
Jones' statutory job is to monitor the operations and plans of the Battleship, North Carolina's memorial to the state's World War II service and the more than 10,000 Tar Heels who died in service. It's homeported in Wilmington.
McCrory originally appointed Jones as vice chairman in 2013. The Battleship's current 17-million capital campaign to repair its hull, renovate the ship, and construct a 360-degree memorial walkway around the ship is proceeding successfully.
For more information on the Battleship, visit the USS North Carolina website.