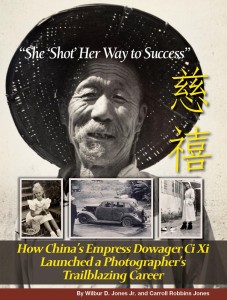 SOCIALITE. NAVY WIFE. MOTHER OF TWO.
Trailblazing freelance photographer.
Patricia O'Meara Robbins
In 1933 at the age of 22, Pat Robbins landed in the midst of old imperial China and began blazing a professional trail for woman photographers. Cultivating a friendship with Princess der Ling, the last lady-in-waiting to the Empress Dowager Ci Xi, which allowed her inside access, Pat documented China, the pre-World War II Orient and her husband's Asiatic Fleet; then the aftermath of the attack on Pearl Harbor, movie celebrities and high society in The Golden Age of Hollywood, postwar Europe and occupied Germany, and the mid-century Washington scene. This lavishly illustrated family history traces the career, life, and times of a bold, creative, and determined woman.