About Wilbur D. Jones, Jr.
Wilbur D. Jones, Jr.
Wilbur D. Jones, Jr., is a nationally known, award-winning author and military historian in Wilmington, North Carolina. Doing business as Wilbur Jones Compositions, L.L.C., he writes, lectures, and consults on history and national defense, serves as a media source, and leads worldwide tours of World War II battlefields and sites.
A Wilmington native, he returned there in 1997, after living in Italy, California, and Northern Virginia.
Jones is a retired Navy captain and served the Department of Defense for nearly 41 years, the last 12 as a professor and associate dean at the Defense Acquisition University. He is a University of North Carolina history graduate (1955).
In 2014 North Carolina Governor Pat McCrory appointed Jones as Chairman of the USS North Carolina Battleship Commission, on which he had served since 2013 as Vice Chairman. The Commission oversees and monitors the operations, maintenance, and plans of North Carolina's state memorial to the 10,000 Tar Heels who died in uniform in World War II.
For awards and recognition, please visit the Awards and Recognition page.
Political Staff Career
In a 16-year political professional staff and volunteer career, he progressed from precinct captain in Los Angeles to assistant and advance representative to President Gerald Ford in The White House (1975-77). He was an organizer for the Los Angeles County Republican Party, was an assistant to California Congressmen Ed Reinecke and Barry Goldwater, Jr., directed President Richard Nixon's reelection campaign in New Hampshire, and advanced President Ford's 1976 campaign and Bicentennial events. In Washington he served as public affairs director for the U.S. Chamber of Commerce before being recalled to active duty in the Office of the Chief of Naval Operations.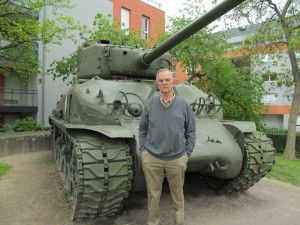 Sherman tank manned by the French 5th Armored Division in the liberation of Colmar, Alsace, France, on February 2, 1945. It ended the last battle on French soil, the victorious Battle of the Colmar Pocket. Participating U.S. infantry divisions noted at this site are the 3rd, 28th, and 75th. Colmar, 2014.
As an Author
Jones has authored 17 books on military history and national defense issues. Since 1997 they are (reviews and endorsements are noted under this website's Book Titles):
Football! Navy! War!: How Military "Lend-Lease" Players Saved the College Game and Helped Win World War II
The Journey Continues: The World War II Home Front*, the natural sequel to
A Sentimental Journey: Memoirs of a Wartime Boomtown*;
Forget That You Have Been Hitler Soldiers: A Youth's Service to the Reich, with Hermann O. Pfrengle;
Hawaii Goes to War: The Aftermath of Pearl Harbor, with Carroll Robbins Jones;
Condemned to Live: A Panzer Artilleryman's Five-Front War, with Franz A. P. Frisch;
Arming the Eagle: A History of U.S. Weapons Acquisition Since 1775;
Gyrene: The World War II United States Marine**; and
Giants in the Cornfield: The 27th Indiana Infantry.
He has completed the manuscript of a book tentatively titled, "'She Shot Her way to Success': A Socialite Photojournalist Fatefully Records History." It is about the career, life, and times of Patricia O'Meara Robbins, from the early 1930's in old Imperial China, through the attack on Pearl Harbor, the "Golden Age of Hollywood," life in Occupied Germany, and more.
* Winners (2005 and 2003) of statewide history book awards from the North Carolina Society of Historians. The Journey Continues won the 2006 Clarendon Award of the Lower Cape Fear Historical Society as the best N. C. Regional history book.
** Gyrene was used as a "technical reference manual" in 2007 to train actors in Australia for filming "The Pacific," the Steven Spielberg-Tom Hanks HBO mini-series production (2010), about WWII Marines. Please visit the Wilmington Star-News website for more information.
See the Awards and Recognition page for Jones' recent awards for preserving history and community service.
"Salute to WWII Veterans Jamboree" memorabilia exhibition. 2009
World War II Wilmington Home Front Heritage Coalition
As co-founder in 2000 and chairman of the volunteer Coalition, a 501(c)(3) corporation whose mission is to identify, preserve, and interpret the rich North Carolina WWII legacy, he has been at the forefront of state historical preservation efforts. He spearheaded successful projects to have Wilmington proclaimed as "America's World War II City" and the WWII Hannah Block Historic USO renovation and restoration as a home front museum, both culminated in 2008.
Military History Lectures
Jones' lectures and presentations on military history have ranged from on board the Queen Mary 2 on her maiden eastbound voyage to Southampton (2004), and the Clipper Adventurer cruise ship in the Mediterranean, to the National Archives, C-SPAN Book-TV, University of North Carolina Wilmington, UNC-TV (PBS), and National Iwo Jima Symposium and Reunion.
As tour leader or historian, he leads tours and cruises of WWII battlefields and sites in the Pacific, Europe, Mediterranean, and North Carolina. They include the Italian Campaign (Malta, Sicily, Italy); Peleliu (the Palaus); Normandy D-Day; London and area; Tarawa and Butaritari (Kiribati, former Gilbert Islands); Battle of the Bulge to Hitler's Eagles Nest (Paris to Munich; France, Belgium, Luxembourg, Germany); Iwo Jima; Okinawa; Invasion of Southern France (Nice to Frankfurt – Riviera to the Rhine); and Crossing the Rhine: Operation Market Garden to Remagen Bridge (Frankfurt to Amsterdam; Germany, Belgium, Netherlands).
He also leads tours of WWII sites in Southeastern North Carolina.
Sherman tank at Battle of the Bulge museum, Diekirch, Luxembourg. 2008/10.
Lectures, Public Appearances, Book Signings, and Media Source
Jones has given more than 750 lectures, media interviews, local government agenda presentations, book signings, and other public appearances providing educational information to in-house audiences of approximately 10,000.
He is a frequent expert and informational interviewee and source for national and regional TV and AM-FM radio, and a frequent correspondent and reference source for regional print media including the Wilmington Star-News, for whom he began writing as a student in 1950 and still does.
Lifelong Interest in Military History and National Defense
Jones has possessed a lifelong burning interest in military history, national defense issues, and service to country and community. Seven years old when the United States entered World War II on December 7, 1941, he grew up in Wilmington playing war games and supporting the war effort as a child. He writes of his indelible experiences in two award-winning books on wartime Wilmington, A Sentimental Journey and The Journey Continues.
Commissioned through officer candidate school in 1956, he served a both a Regular Navy and Ready Reserve officer for the next 28 years, retiring in 1984 after spending half that time on active duty. He achieved the rank of captain and commanded two Reserve units, including the Atlantic Fleet Naval Beach Group Reserve, a support unit that lands with Marines in an amphibious assault.
He served nearly 41 consecutive years in the Department of Defense on active duty, in the Ready Reserve, and as a civilian professor and Associate Dean of Information at the Defense Acquisition University (formerly Defense Systems Management College). His service included more than seven years in the Pentagon as a captain on active duty and as a civilian assistant to the Under Secretary of Defense for Acquisition.
"Remembering how I began, I was born to be a military historian and career armed forces officer in service to my country."
Other Civic and Community Activities
Secretary and principal organizer of the Wilmington KITTY HAWK Concept Team which worked from 2006-09 to bring the aircraft carrier USS KITTY HAWK to Wilmington as a museum ship. (The Navy stated the ship would remain in the reserve fleet for several more years.)
Director, Museum of the Marine, Jacksonville, N. C.
Member, Hannah Block Historic USO/Community Arts Center Advisory Board
Member, Salvation Army Advisory Board
Chairman, Friends of the Battleship North Carolina Memorial
Member, New Hanover County Public Library Advisory Board
Director, Wilmington (Downtown) Rotary Club
Member, 150th Anniversary (2008) Committee of St. Andrews-Covenant Presbyterian Church, Wilmington – wrote church history and established a mini-museum History Corner. Charter Member of the church (1944).
Member, Wilmington-New Hanover County Military Affairs Committee
President, Northern Virginia [Professional] Baseball Umpires Association
Chief Baseball Umpire and Chief Basketball Referee, and Director, Fort Hunt Youth Athletic Association, Mount Vernon, Va.
His Passions
Jones enjoys everything on WWII, reading, physical fitness, yard work, the Wilmington Athletic Club, civic involvement, rooting for his North Carolina Tar Heels, and ACC basketball.
At UNC he lettered in varsity soccer and lacrosse and was president of the Monogram Club of letter winners.
He is a retired professional baseball umpire and basketball referee at the NCAA Division I level through high school and youth leagues in the Northern Virginia-Washington-Baltimore region. In 1983 and 1985 he umpired the Senior League World Series (15-year old division of Little League). A number of players he officiated achieved fame or reached the Major Leagues, including Mia Hamm, Pete Schourek, Bill Pulsipher, Derrek Lee, Steve Dunn, and Jim McNamara.
Memberships and Family
His memberships include numerous veterans, military, and history organizations and the Wilmington Executives Club (past president).
He and his wife, the late Carroll Robbins of Los Angeles, were married on August 11, 1959, in Naples, Italy, where he was serving on a ship homeported there. Carroll died on September 22, 2013. Their children are Patricia Jacobson (husband Willard) in Pembroke Pines, Fla.; David, a marketer in Raleigh, N. C.; and Andrew (Kimberly), a sports journalist and publisher of TarHeelIllustrated.com in Raleigh. The Joneses raised their granddaughter Carrie Jones Vaughan (Matt), a third-grade teacher in Wake County, N. C.