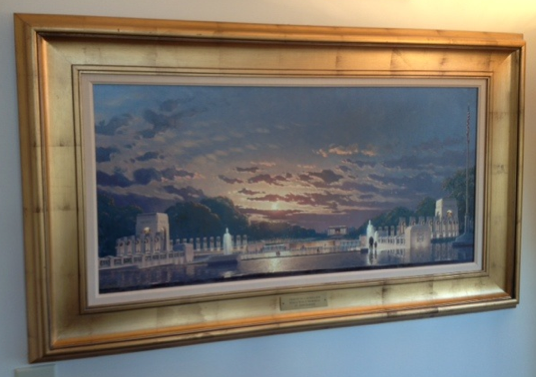 World War II History Preservation Event Features National WWII Memorial Giclee Dedication and Medal of Honor Recipient Charles Murray Documentary
The momentum to preserve Southeastern North Carolina's rich World War II history continues on Saturday, February 23, with the dedication of a giclee of the National World War II Memorial in Washington, D. C., and the first North Carolina screening of a new documentary on the military service of Wilmington WWII Medal of Honor recipient Colonel Charles P. Murray, Jr.
The event, sponsored by the WWII Wilmington Home Front Heritage Coalition with the Wilmington Art Association (WAA), will be held at the Hannah Block Historic USO/Community Arts Center, 120 South Second Street in Wilmington, at 10:00 a.m. It is free and open to the public.
Wilmington resident Colonel Kenneth S. Pond, USA (Ret.), a native North Carolinian and former executive director and chief operating officer of the American Battle Monuments Commission (ABMC), donated the painting.
He served during the Memorial's fund raising and construction, and commissioned artist John M. Barber to paint the giclee original for its 2004 dedication. The vista looks westward at sunset across the WWII Memorial toward the Lincoln Memorial.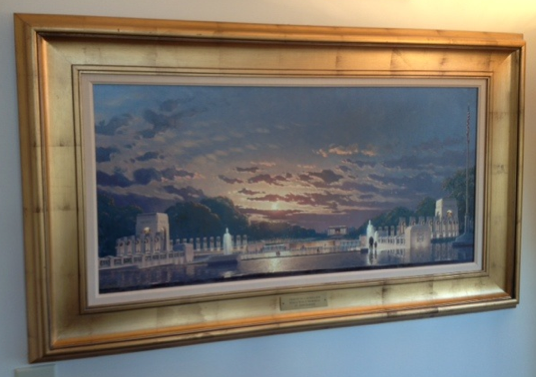 The 30-minute Murray documentary, "Man and Moment," produced by South Carolina public television (etv [correct]), will be shown afterwards. It highlights his December 1944 Medal of Honor action in the vineyards near Kaysersberg, Alsace, Germany, where as a 3rd Infantry Division company commander he thwarted a 200-man German counterattack on U.S. forces, killing 20.
Coalition chairman Wilbur Jones visited the Murray Medal of Honor action site twice in recent years. The wartime shrine and cross-trails still exist.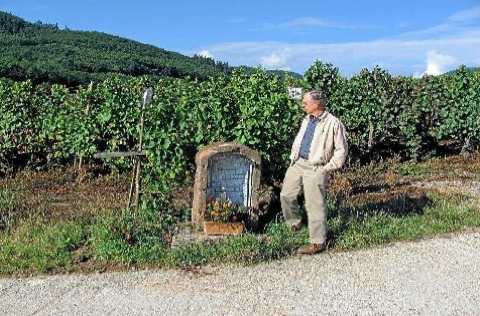 A New Hanover High School graduate (1938) and strong Coalition supporter, Murray retired to Columbia where he died in 2011. A Wilmington middle school is named for him.
Congress established the ABMC to commemorate the service, achievements, and sacrifice of U.S. armed forces. It manages 24 overseas military cemeteries, and 25 memorials including the National WWII Memorial, monuments, and markers. Nearly all the cemeteries and memorials specifically honor those who served in World Wars I and II.
The Coalition is the de-facto preservationist of the building, which now houses a community gallery administered by the WAA.
"Considering the giclee's significance, and the pride Wilmington has in its heroic son, this event is a grand merging of history and art," said Jones, "and exactly what this wonderful building means to our community."
Speakers will include Wilmington Mayor Bill Saffo, New Hanover County Commissioners chairman Woody White, Colonel Pond, and WAA president Elaine Rogers Cooper.
For further information, contact Jones at 910-793-6393 or send an email to JonesWD@aol.com.